Our kids spend most of their time at school, which is where they forge their personalities.
School can be a scary place to be for some children. In contrast, others can quickly adapt to the new environment and feel self-confident being in it.
Confidence is a learned skill, and parents should support their kids' building self-confidence starting at an early age. It will make them feel valued while they are doing well during their walk of life.
A confident child will be a successful person in the community in the long term. Confidence will make them feel secure, motivated, and ready to take on any new challenges.
Best Ways To Help Your Children Succeed at School
Therefore, we believe it is your task and obligation as a parent to help your child to be confident, thus much more likely to succeed in school.
In this article, we will discover tips and ways to help you explore what it takes to get your child ready for daily education at school.
Get Involved at your Kid's School 
You might think that kids do not like it when their parents are involved in matters related to their school, but that is absolutely false.
Children's results at school are much better when parents are participating in various events at school. It is extremely important that you attend the back-to-school night at your kid's school.
This is an annual event that takes place at the beginning of the school year. Teachers, parents, and children meet together so that the teachers explain the plan of the course.
They will also let you know about the teaching methodology, their expectations that will determine your kid's grades, …etc.
Visit the School and Stay Updated 
Visiting your kid's school will help you visualize better the environment where your kid is learning.
This will also help you develop your relationship with your kid, as you will start communicating with him or her about the school day.
Your kids might come and talk to you about the activities that they have done at school, and it is better to show that you know what they are talking about.
Stay also updated by visiting the school's website constantly. On the website, you can find various information such as the classes' calendars, sports activities held at school, art shows and events, and testing dates.
You can also use that platform to get your kid's teachers' emails and contact them if you need any assistance related to your kids' homework.
Be there during Homework Time 
Homework might seem daunting and challenging to deal with for some kids.
Failing at supporting your kids during their school tasks will only lead to having more learning difficulties. Homework is a crucial part of the education process.
It reinforces and helps them build strong learning abilities as well as broadening your children's knowledge. Try to support your kid by creating a healthy and productive study environment.
Put away all distractions like TV or mobile phones, keep the space well lit, quiet, and comfortable.
This will show to your children that you give value to them doing their homework and set the rule that homework is a priority and an obligation.
And let them know that if they need any help, they can ask you. Also, let your children know that at the end of each homework session, you will review their completed assignments.
Teach your Children to be Organized  
Growing up and becoming the adult I am now, I realized that organizational skills are fundamental to learn. Unfortunately, this is something that I fell behind and didn't learn as a kid.
It's something you can always learn, but skills are better if learned at an early age. You can support your kid by teaching them these skills that will help them greatly to succeed at school.
Organizational skills will help them stay focused instead of getting distracted from all the external distractions. You can start by the simple act of getting them an assignment book and a homework folder where they can organize all their homework assignments and projects.
Doing this will allow you to keep track of your kid's homework assignments and check that they are not falling behind.
Another way to teach organizational skills is by making a to-do list. This will also help them stay focused on doing their daily activities and build a healthy life habit.
Get them Ready for School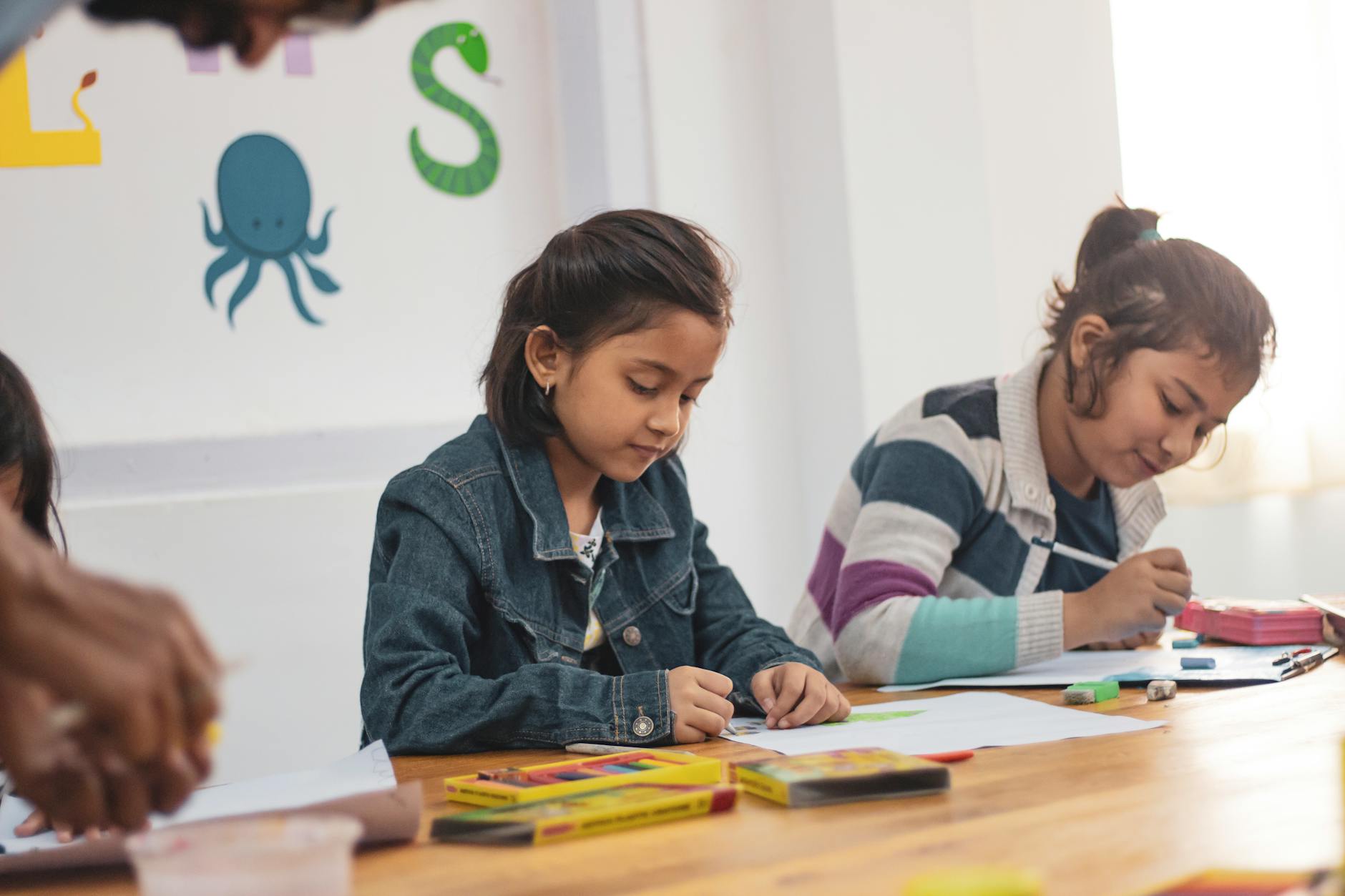 Getting your children ready for school is crucial. What I mean by that is the importance of taking breakfast. Studies have shown that children who take their breakfast before going to school are more likely to stay focused during their classes and have more energy throughout the day.
This means you will have to wake up earlier than everyone in the house to prepare breakfast. Make sure to include foods that are high in protein, fiber, and small amounts of sugar. This will improve their concentration and memorization levels.
As a kid, my parents always thought that I needed the same amount of sleep as they did, which was 7-8 hours. This is totally wrong.
Children need more sleeping hours than adults, which will come at around 10-12 hours. Ensuring that they get good sleep quality will boost their energy level for the next day at school.
Attendance Discipline
As parents, you should understand that your children should attend every school class they have.
Some kids will find this very stressful if they have issues with their classmates or teachers.
If this attitude is persistent, you should talk to your kid about it.
Your obligation as a parent is to take your children to school and be there on time.
This will teach them punctuality and discipline indirectly by watching you showcasing these principles. If your children are going to miss classes, there should be legitimate reasons for that happening.
If they get sick, then your children are allowed to have a sick day and stay at home.
Conclusion
As parents, this might seem a lot of work to do, but remember that applying these guidelines will only benefit your children positively.
Installing such principles at an early age will support your children throughout their school years until they get to university. If you want them to succeed in life, you have to be there for them and show them guidance.
Read Also: