There's no one happier and excited than a kid celebrating his/her birthday, especially if it's a surprise made by his parents. Children around the globe celebrate different birthday parties.
For instance, in Argentina, if a kid is turning 7, family and friends pull on his/her ears seven times. In China, in kid's birthday party, family and friends eat noodles together and wish him/her a happy, long life. In Denmark, the cake is decorated with the Danish flag. In England, the mother of the kid bakes a cake with coins in it, and if the kid finds that coin in his piece, he/she will grow up to be productive.
In India, the birthday girl or boy wears a colorful dress to school, and their best friends give out chocolates to the other school friends. In Israel, the grown-ups lift the birthday kid into the air and put them back down. In Korea, the mother serves seaweed soup and rice cakes, and the family and friends eat together. In Mexico, the birthday kid wears a blindfold and hits a piñata until it breaks open, then they all share the candy inside…
A birthday party for a kid does not necessarily require a lot of money. You can still make your children happy on their special day by a few means. And we are here to help you with it.
What is your top priority?
First, you need to have a plan. You need to decide what's the most important thing to you. Is it to have delicious food? Is it that the people there have an enjoyable time? Is it that you get beautiful images to help you remember the party? It just depends on what you and your kids love, and because it's nearly impossible to afford it all, you can pick one thing and focus on it.
As long as little kids are concerned, for instance, you can throw them a themed party, which they will absolutely adore.
Who will you invite?
When it comes to inviting people, everyone gets stressed out thinking. There are a lot of people who avoid celebrating birthday parties because they can't invite everybody.
But don't let others determine your actions, if you want to have a party, then have it! Even if some people might get their feelings hurt and that's unfortunate, but you can explain to them your reasons, and they will hopefully understand.
So, you can invite your closest family members and your kid's best friends and basically the people you more hang out with. And that's how you determine how many people will be there.
Where are you going to have the party?
If you want to rent a venue, that's more expensive. When you think the space and how many people are going to be there, it might limit who you're going to invite.
Now, since we're talking about frugal birthdays, it would be better if you make the birthday party at home. You can use your backyard and decorate it with the help of your little ones, and with cheap materials.
What time of day do you want?
The reason why time is important is because of what type of food do you want to do at the party. If you don't want to make a meal, then it would be better if you have the party at a time like 2:00 pm or 4:00 pm.
If you want to have a 10 am, it gets a little tricky because it's kind of brunch, and if you have it at 11 am, it's an early lunch. So, what time of day you're going to have is crucial, and you can choose it depending on your budget.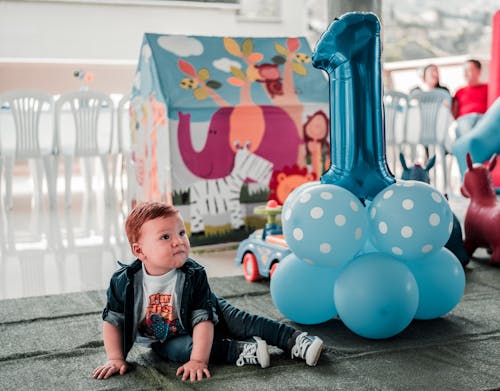 What theme/colors do you want?
Theme and color are what make a birthday party special. If you want to throw a themed party for your kids, don't go overboard and try to be specific. You can decide to do DIYs and crafting with the help of your kids if they're old enough.
The theme and the concept can significantly be altered by all that we've mentioned before. Which means if you want a themed birthday party, you need to take into account all of those other details to make sure that theme will fit, and that you choose the right one.
Make your invitations specific.
This is like a tip for how to have a successful party. If it is your child's first birthday, there are going to be just the adults, then just focus on having some food, watch the little kid eating the cake, and that's it.
However, if your children are a little bit older, you can have a puppet show, a pony, a specific activity, and so forth. Again it depends on your budget and your child's preferences.
What will guests do when they walk in the door?
There are many people that do not think about what their guests will do when they walk in the door, but it really either makes or breaks the party.
If your party will have friends and family and they're probably not familiar with each other, it could be quite weird to get involved with each other from the first meeting.
So, it's your job to create some activities that will get them busy and having fun at the same time. Either with each other or with their little ones. You need to make them feel comfortable and welcome.
What is the focus of the party?
Make what the party will focus on very specific in your invitations. For example, if you want to have a dance birthday party, make it clear in the invitation, so that people know they're coming to dance.
This is obviously related to the theme you're going to choose, for example, if your focus is on food, set some tables and chairs, some food and the cake. Also, you can add an activity related to that theme.
Conclusion
And that is pretty much it. This whole process should be fun and fascinating and will hopefully draw a smile on your kids' faces.
Read Also: